Welcome to God's Kids Early Learning Center!
God's Kids Early Learning Center provides both preschool and daycare services.
We recognize that all children are created in God's image and so we strive to guide them in their spiritual, emotional, academic, social and physical growth and development.
We offer academic readiness activities, including quality literature, listening, language usage, recognition of letters, numbers, colors, shapes, and patterns.
An experienced staff demonstrates acceptance, patience, love and concern for children while using their knowledge of this developmental state. Bible teaching, art and music are offered daily. We have both a secure outdoor play area as well as an indoor gym for large motor play during inclement weather.
God's Kids is a preschool and daycare that offers Christ-centered education year-round to children 2½-5 years old.
1444 Maryland Street, Grosse Pointe Park, MI 48230 – (313) 821-8779
godskidsgpp@gmail.com
• Open Monday-Friday, 6:30 a.m.-6:00 p.m.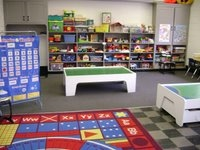 • Degreed teachers trained in CPR and First Aid
• State-licensed school
• Multiple child discounts
• Nutritious snacks and outdoor play
• Helen MacDonald, director
God's Kids is currently accepting new children. Call us at (313) 821-8779.